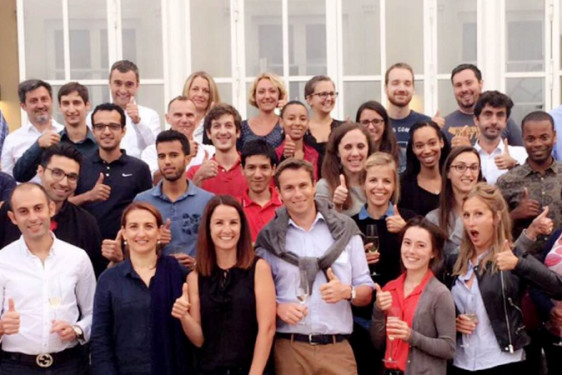 A word from the company
This is the story of an incredible development, initially in the field of health, but which progressively spread to every business sector through our diverse array of products and services. Today, we are a leader in most of our business segments. We don't take it for granted. Every day, we challenge ourselves to imagine new products and new ways of working towards the future. Our employees set us apart and have made us what we are today. Our strong culture is one of a kind, and arose out of an entrepreneurial spirit. Team members will tell you they quickly felt at home at Cegedim. We don't have a dogmatic vision of business lines, job descriptions and organizational charts. Instead, we invite all of our employees to test boundaries, to imagine, share and try something new. We aim to grow by encouraging our employees to develop and by welcoming new talent from a variety of backgrounds to push our entities to reinvent themselves. Joining Cegedim means accepting an invitation to chart your own course in our businesses – present in 11 countries – by drawing on your initiative, high standards and enthusiasm to contribute to our greater success. Come explore our career site and, most importantly, get in touch with our 'Cegedim Recrut'Lab teams to open the door to your new company. See you soon!
Key figures
1969

Year of creation

More than 5,000 employees

Number of employees
Testimonials
I have worked 17 years for Activus, during this time I've seen the company blossom, always with an open and family feeling. At the moment I'm in the Product Improvement Team which involves investigating Client issues escalated from the Support team, some development work on raised BAU issues and helping team members using my knowledge of Actisure. When I first started we had a 1 room office in Bristol and I worked at a client's site, since then we have moved office 3 times to bigger and better premises. Our client list has grown from 2 to the client situation which just keeps growing.
I've been in the Activus Test team as an automation tester since October 2013. My CV contained no experience in IT as my background was as a freelance animator, working for Aardman Animations among others. I had already begun studying for my ISTQB Software testing foundation and had my exam booked when I applied for the job here. Activus is a great company to work for, one thing that is really important to me is feeling valued as an individual. The immediate Activus company is a good size for this, and there are plenty of opportunity to socialise with my colleagues so we get to know each other as people. My role has changed as we've grown and I've had some great opportunities. This year we went Agile, a group of us were given the opportunity to become accredited scrum masters through a 2 day course.As part of our recent transition to Agile my role has changed to a split of scrum master and Automation developer, which means there is plenty of variety for me.
I have been working for Activus as a Functional Consultant for 18 months, previously I was a business analyst working in an internal agile development team.I particularly like the variety of the work which includes using my previously gained business analysis skills and combining these with opportunities to work directly with external clients. Activus has given me the empowerment to explore business processes and requirements with my clients through managing my own work stream whilst providing me with experienced consultant support where I have needed it. All the Functional Consultants work as a team and everyone is willing to help their colleagues understand features in Actisure that they may not have experienced before. My job varies drastically from week to week (and even day to day!) depending on the priorities of the project I am working on. This can include; running my own workshops with clients to show them what Actisure can do and how it can be used to meet their business processes; configuring settings within Actisure to support the clients needs; discussing requirements for identified system change with a client, documenting these and communicating them to the development team; managing, recording and escalating any risks or issues identified; testing and learning new functionality; training or helping my colleagues; all the while continually broadening my knowledge of the system through new topics as I experience them.When I started, I was very new to Actisure and its broad spectrum of features. Initially it felt quite daunting! But over my time here, with each subject I have had to manage with the client, I have become more adept and independent at understanding how Actisure can be configured to meet a client's needs. After only a year and a half, I am now someone that both experienced and new colleagues come too to ask questions on my areas of expertise in how the system works